Stay with me a moment and I'll circle back on the question and how it relates to your life and business….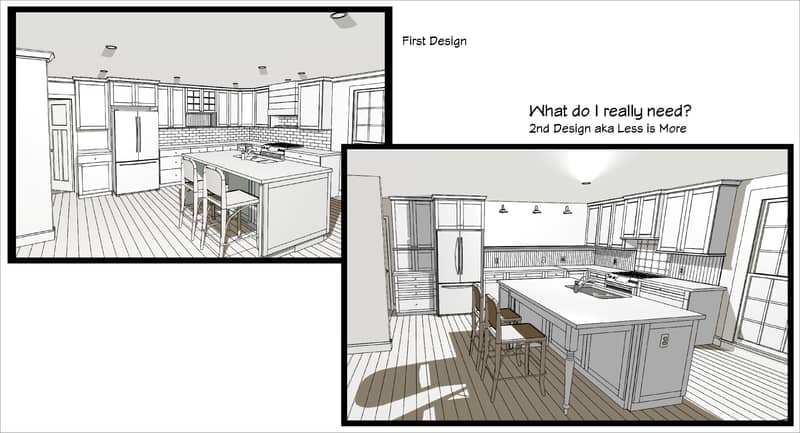 I'm a big fan of Helen and Paul from Devol Kitchens. They care so much about what is the house and the client asking? How does that lead into the design? Their kitchen designs and craftsmanship give me so much joy. I designed interiors at a time when things were made by hand. Solid mahogany furniture we specified took 9 months to craft and finish by hand (not because of a pandemic). Heirloom quality furniture that was meant to be passed down to the children. Today many of those factories no longer exist. Inspired by Devol I started asking questions….
Especially when the initial bids came in over budget for the cabinets I started asking "What do I really need in my kitchen?" Do I need that whole wall filled with upper cabinets (first design) if all the storage requirements are met? No. Reminding myself the last kitchen remodel I had at least five cabinets with nothing in them.
Do I want an all white, neutral kitchen palette? No. I want color!
How can I recreate the look and feel of a Devol kitchen on my budget?
This being our fourth kitchen remodel I don't plan on selling this house. We'll be aging in place. During the previous kitchen remodels my wishes manifest when I get out of the way especially around the phrase "oh that costs too much!"
Like the kitchen remodel 30 years ago…when shaker cabinets first came on the market-all the stores sold raised panel oak cabinet doors, most with arches. I wanted a simple shaker in maple. Then a new electronics store opened up…hubs saw a small ad for cabinets, arriving at the store walking through the aisles, way in the back corner there was a small cabinet display with my dream shaker cabinets! $3K for solid maple. Sold. Easy peasy.
This remodel I'm inspired by a snapshot on Instagram from two years ago… cabinet colors from a high end California home builder. One color- saffron- pops out. What will it take to get that color? It's not the standard cabinet color of white-sage green-navy.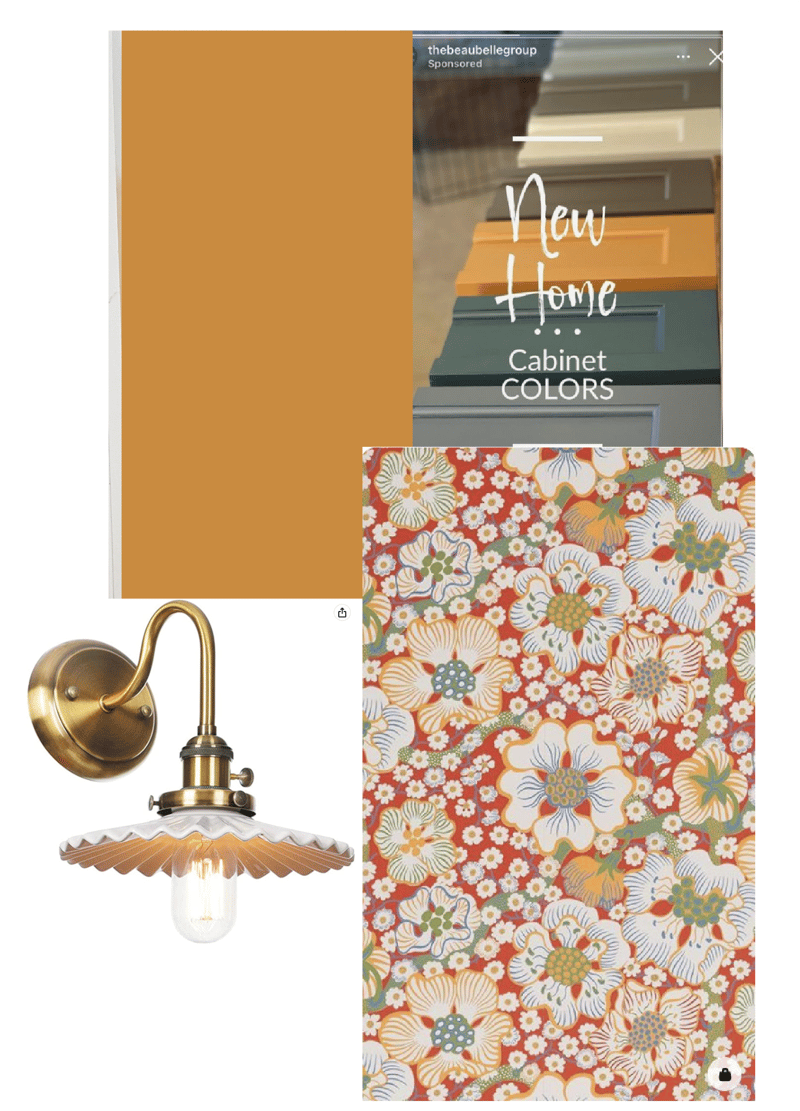 Then the saffron color pops up in the Swedish wallpaper I pick out. Then there's a post on FB around my ancestral connection to the saffron color! Oh my!
Then I found a local cabinet company in business 25 years; solid plywood cabinets, delivered and installed within budget. I can have the hidden coffee bar, the custom shelf, the tongue and groove backsplash, the soft close doors and drawers along with my microwave cabinet- the depth I want (one cabinet guy told me it couldn't happen). I can paint the cabinets any color I want within the Benjamin Moore palette. Can I be so bold? Yes!! a splash of saffron on the island, swedish wallpaper above the shelf along with the cutest little ruffled light fixtures for the wall above the shelf. What else is possible?
My question to you this week and this coming year as Jupiter (the planetary energy of expansion) moves into Taurus…. What do I really need in my life and business?
And then universe show me how to go about making that happen.
Jupiter moves into Taurus this week for the first time in 12 years. Jupiter activates a new level of creativity every time he changes signs. Taurus seeks value- highlighting issues of self-worth and self-abuse. It may bring up the ways you've made yourself small for someone else's approval or fear of judgment "Who am I to be this bold!"
We'll be tapping into this bold asking energy of expansion at the Initiate Retreat next month. In this 4-Hour session we review what's working in 2023, source out your stuck points, and activate your clarity to finish out 2023 strong. It's happening Saturday, June 3rd at Noon Eastern.
You'll use doodles I create for the day. No matter where you are- stop- start- leaping- hanging in the dangle- lets play in the doodles. It's fun. Now in its 11th year, this planning retreat is designed for those who love thinking outside the box. What do I really need and how do I want to create the rest of my year?
Here's to going bold and activating joy!
With love,